From foundation application to selecting the perfect foundation formula to suit your skin tone and type, here's how to get a flawless foundation finish, every time.
Matte, glowy, sheer, full coverage... the options are endless when it comes to finding the perfect foundation but when you've met your match, you need to then ensure that you know how to apply it for a beautifully blended, seamless finish. Here's where we come in. With the help of Ocea McKenzie, M·A·C's National Education Manager ANZ, we've created your go-to foundation guide — we're taking it back to basics, giving you expert tips to finding the best foundation for your skin type, and, most importantly, how to apply foundation to create your best base yet.
FIND YOUR PERFECT FOUNDATION FORMULA
Firstly, you need to establish your preferred foundation. Do you love a glowy, dewy complexion? Sheer, yet hydrating foundations are your go-to — best served up with a healthy dose of Strobe Cream, of course. If this is you, you can't go wrong with Studio Radiance Face & Body Radiant Sheer Foundation. A runway favourite but also popular with anyone who loves a sheer finish, it has a barely there yet buildable formula that gives you a your-skin-but-better look, and works well on all skin types. Prefer something that gives you more coverage, particularly if you have oily or problematic skin? Search for a base that says so, and usually promises a matte or velvety texture. The iconic M·A·C Studio Fix Fluid SPF15 Foundation is the ultimate long-lasting foundation that does just that; not only does it help to control oil and shine, it provides a flawless matte base with a polished, velvety skin texture. And lastly, if you want a foundation that gives you the best of both worlds, you can't go wrong if you opt for Studio Tech Cream-To-Powder Foundation; it boasts a medium, buildable coverage and a more natural matte look.
If you're not sure on what your skin needs, or how you would like your foundation to look, head in-store to see a trained M·A·C Artist, or chat to one on via Live Chat; they can talk to you about your skin concerns, preferred makeup finish and the best shade to suit your skin tone.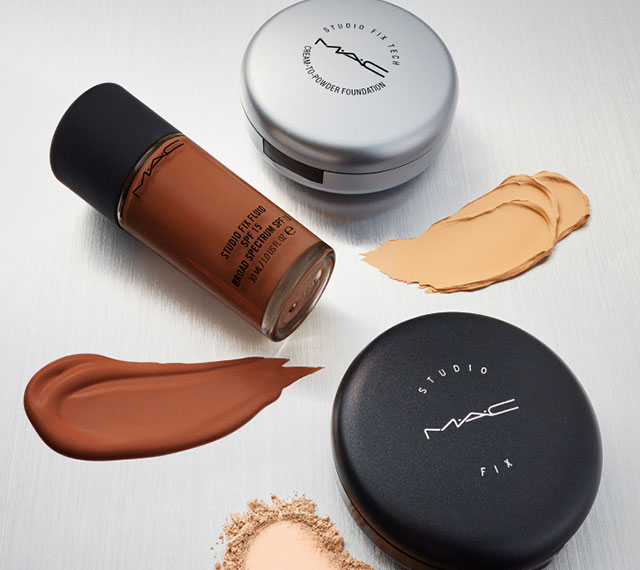 ACE YOUR FOUNDATION APPLICATION
Let's talk brushes. There are so many benefits to applying your foundation with a brush — not only is it a more hygienic option than using your fingers or hands, it's also a sure-fire way to ensure that your foundation takes on a more polished finish, helping to minimise streaks and blend evenly across your skin. The trick is to not apply too much foundation to begin with; start with just one pump of liquid and, beginning in the centre of your face, blend the foundation into your skin using small circular motions, taking care to ensure that you smooth it over your jawline and down into your neck. A popular brush option that provides a full coverage is the 170 Synthetic Rounded Slant Brush, says McKenzie. "It allows you to build the product up to achieve your desired outcome, but if you like a sheer or medium coverage that you can buff onto the skin, try the 128S Split Fibre Cheek Brush."
For those of you that like to apply your foundation with a sponge, you're sure to get a beautiful, lived-in makeup finish, explains McKenzie. "However, when you apply foundation with a sponge, you need to really press it in the skin to achieve a polished, seamless coverage that looks like a second-skin." Remember, if you're using a blending sponge to apply your foundation, you need to rinse it under water first, then wring it out completely to ensure there is no water left on the sponge but though it still feels damp, before using a light stippling motion to push the product onto the skin.
WHEN (AND HOW) TO APPLY POWDER FOUNDATION
Powder foundation is a really quick and easy foundation option for someone who is always on the go, or someone who likes to keep foundation in their handbag for touch-ups, says McKenzie. "Perfect for oily skin types, the Studio Fluid Powder Plus Foundation comes with its own sponge, and if you use the sponge to apply the foundation it will give you a full, opaque coverage that helps to mattify the skin and minimise shine. If you want a lighter, more natural-looking finish, use a 129S Powder Blush Brush, which will provide a quick and easy application; all you need to do is gently buff it on to the skin."