MOVIE MAKEUP GETS THE INSIDE TAKE ON THE FRESHEST LOOKS IN THE MONTH'S HOTTEST MOVIES
In director Bryan Singer's X-Men: Apocalypse, we time-warp to the time of Duran Duran, moon boots and "Thriller" jackets, and join the cast of extraordinary mutants as their world descends into total chaos (but when doesn't it?). When evil strikes this time, the students at Xavier's School for the Gifted Youngsters are still discovering their mutant powers, while the familiar X-Men are dealing with various challenges. They are called to action as a united front upon the re-emergence of doomsday figure, En Sabah Nur (aka Apocalypse).
With a huge cast including Jennifer Lawrence, Evan Peters, Ben Hardy, Sophie Turner and Kodi Smit-McPhee, it's epic in every sense of the word. It's also a makeup visionary's dream. Two of the film's key creative talents, Special Effects Makeup Department Head Adrien Morot and Makeup Department Head Rita Ciccozzi invited us inside the Herculean acts of creative effort, intuition and collaboration it took to make the magic happen.

Given the distinctly 80s-meets-ancient doom feel of Apocalypse, aesthetic tweaks were critical. "We take into account the period of the movie, and previous looks and the progression of the character. For example, James McAvoy's character, Xavier, goes from having a full head of hair in the movie to losing it and establishing the story of how he lost it," says Ciccozzi. "We played with the idea of still having a beard from The Days of Future Past, but being that it is ten years later and the 80s, we chose to have no beard."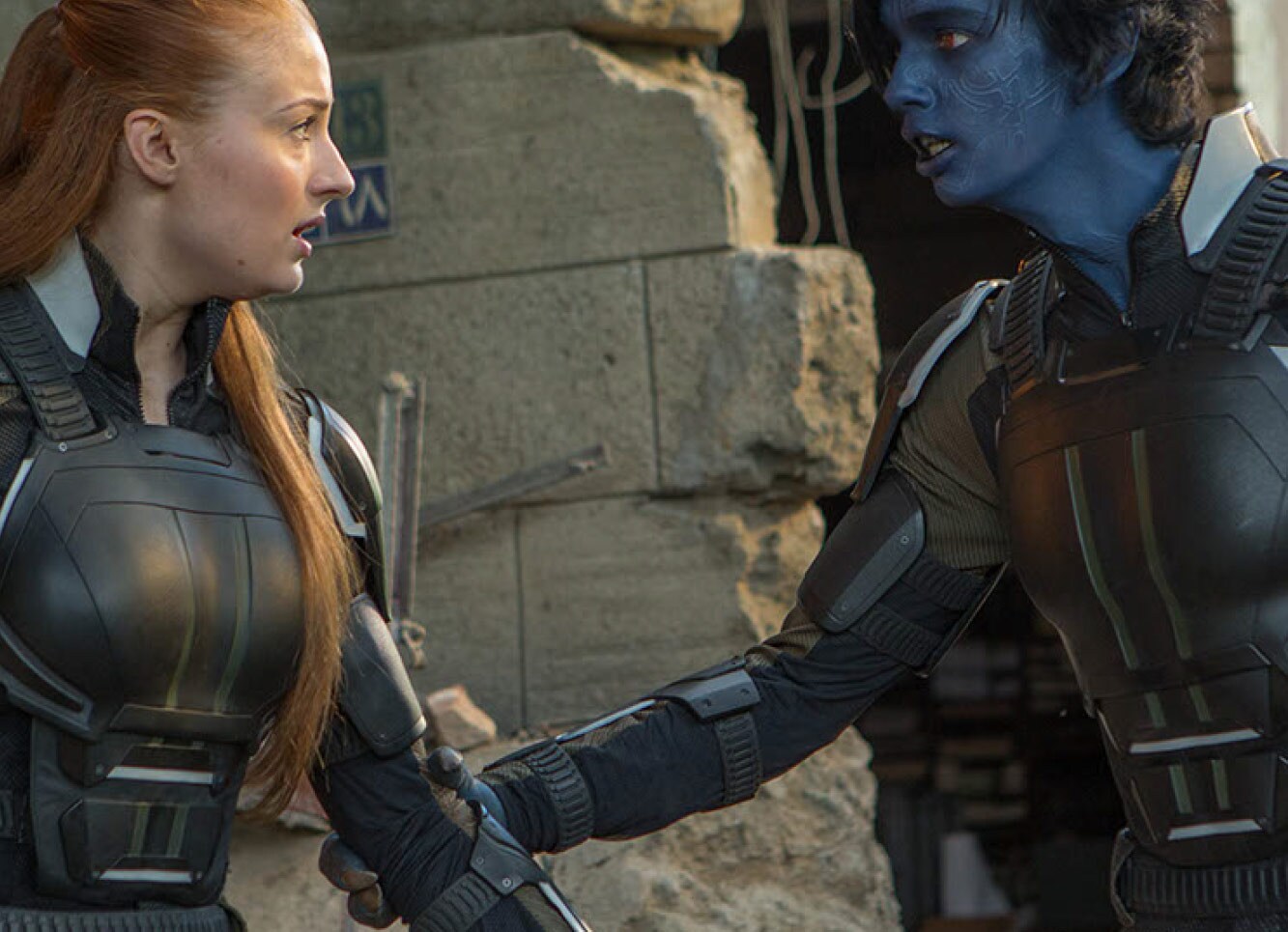 "I wanted Nightcrawler to look as if he simply was a guy with dark blue skin. Even in person. Even under close scrutiny." – Adrien Morot, makeup designer
While Professor X's 'hair today, gone tomorrow' scenario is directly tied to his character's development, other transformations were designed to improve a previous aesthetic. Nightcrawler presented particular logistical challenges: his shadowy skin is very difficult to portray realistically and consistently. "Often with these kinds of very saturated fantasy makeups, the layer of foundation quickly becomes so thick that the makeup can easily become cakey, crinkly and unnatural looking to the naked eye," says Morot. "This was not an option! I wanted him to look as if he simply was a guy with dark blue skin. Even in person. Even under close scrutiny."
For this hybrid act of chemistry and creativity, he turned to M·A·C. "After rapidly eliminating skin dyes and alcohol-based colours, my attention and hopes turned to some of my favourite products – my M·A·C silicone-based airbrush colours, an essential part of my kit. I provided the Artist Relations team with three coloured silicone swatches of the desired hues: a highlight colour, a mid-tone and a shadow colour which the magicians at M·A·C matched to perfection! With these, I was able to easily create my own palette of three or four shades for Nightcrawler. Success! A perfectly natural look that wasn't cakey. As an unexpected bonus, these newly mixed shades had somewhat of a paramagnetic quality, subtly changing hues depending of the lighting conditions and angles at which it was being photographed, which was awesome!"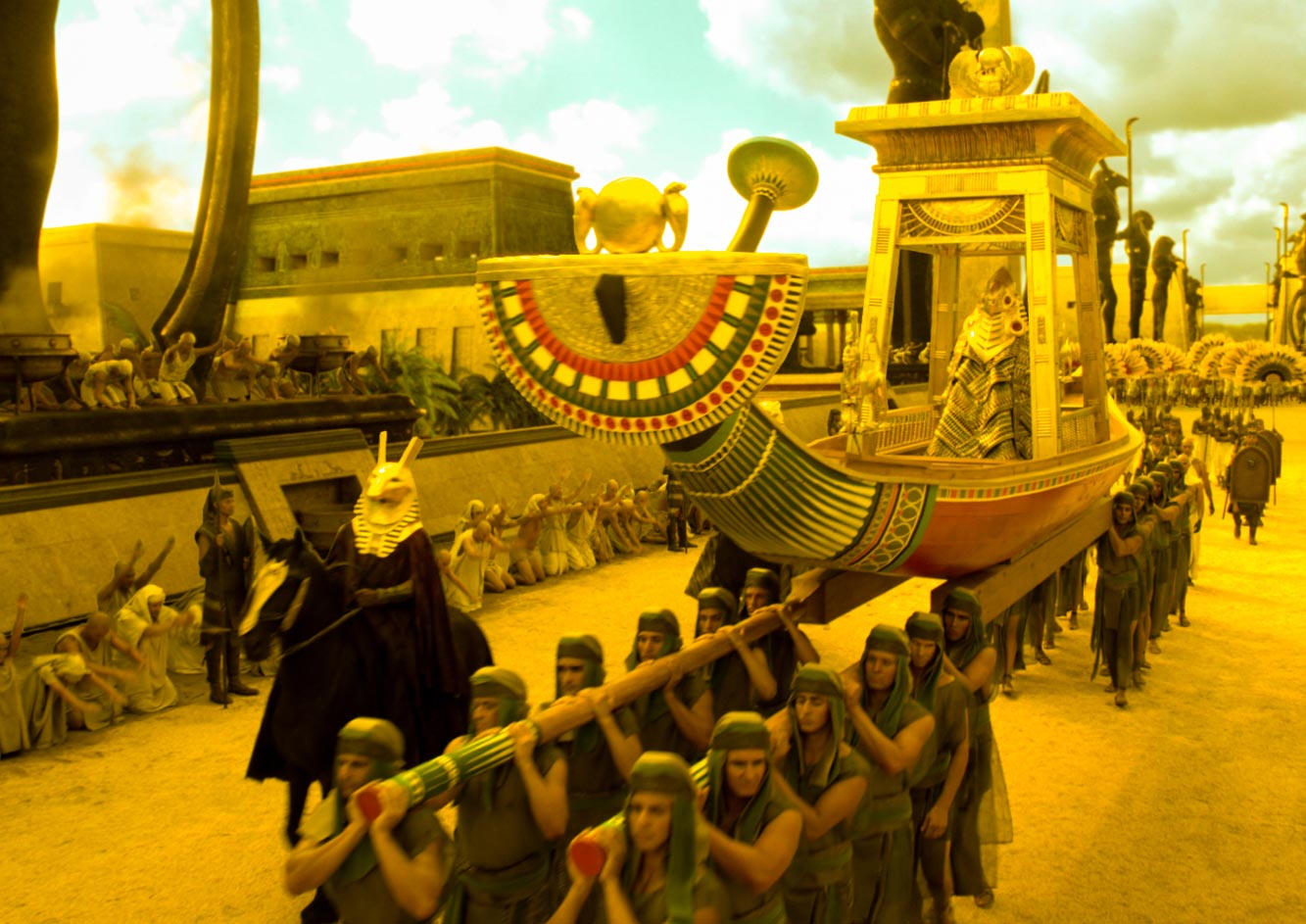 With Morot's help, the emotionally complex Nightcrawler goes from sinister to resplendently playful youth (complete with siren-red Thriller-style jacket.) Played by 19-year-old Kodi Smit-McPhee, he's the epitome of a feline jester come to life, and the makeup artist wanted to emphasize these physical aspects.
"When you read the X-Men comics, Nightcrawler is always portrayed as a dark silhouette with this long, cat-like tail, almond-shaped yellow eyes, pointy ears and crouching down in a very large, cat-like manner," he says. "The Alan Cumming version was perhaps a bit more goblin-like and I thought it would be great for our character to show some of these feline and elegant qualities. I always try to create makeup that is in harmony with the facial features of my actors, so it was important to complement Kodi's youthful and soft features."
Ciccozzi found herself having to invent on the fly in a similar manner. As mutant Angel (played by Ben Hardy) becomes one of Apocalypse's Four Horsemen, he undergoes a rapid physical transformation that leaves him with a golden labyrinth of tattoos on his forehead. Soon, Ciccozzi was neck-deep in researching the Egyptian alphabet to make the illusion happen. "It was very tricky, as the design had to sit perfectly on his face and around his eyes, clearing his eyebrows. Ben was in England, I was in Montreal, and I was having the tattoos made in Los Angeles at Tinsley. Also, the tattoos needed to be made ahead of time because of the quantity needed, and the gold colour for the tattoos had to be tested. We only had a 3D scan of Ben's head to work from and laid the design out on that. Luckily, once Ben arrived we tested it and it fit great!"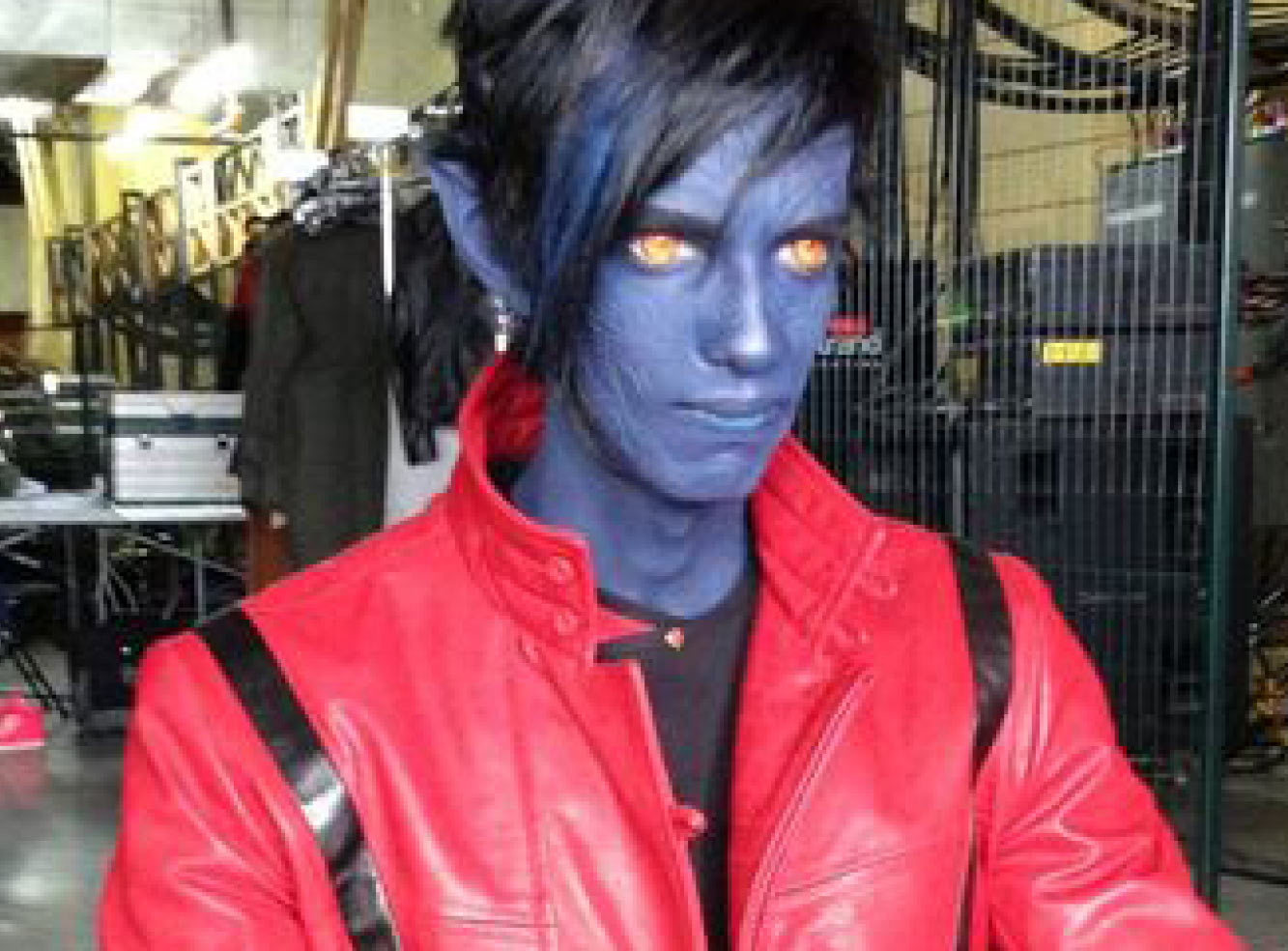 "We shaved off all body hair, head hair and facial hair, and had five crews of three doing the gold tattoos on bodies. I had a mobile spray tan company come in, and over two days they airbrush-tanned hundreds of people!" – Rita Ciccozzi, makeup designer
In some crowd scenes, Ciccozzi was responsible for helping 39 makeup artists unify the look of over 400 extras – "Ancient Egypt was big," she admits. "A lot of logistics and planning. Nathalie Trépanier, who was my background key artist, had what looked like an old treasure map of the scheduling for that sequence! We had three days of preparation, where we shaved off all body hair, head hair and facial hair. We had five crews of three doing the gold tattoos on bodies. I had a mobile spray tan company come in, and over two days they airbrush-tanned hundreds of people!" That was just before shooting, she notes. "It was very difficult to find 400 Egyptian-looking people in Montreal who wanted to shave their body hair off – so we had many pale skins!"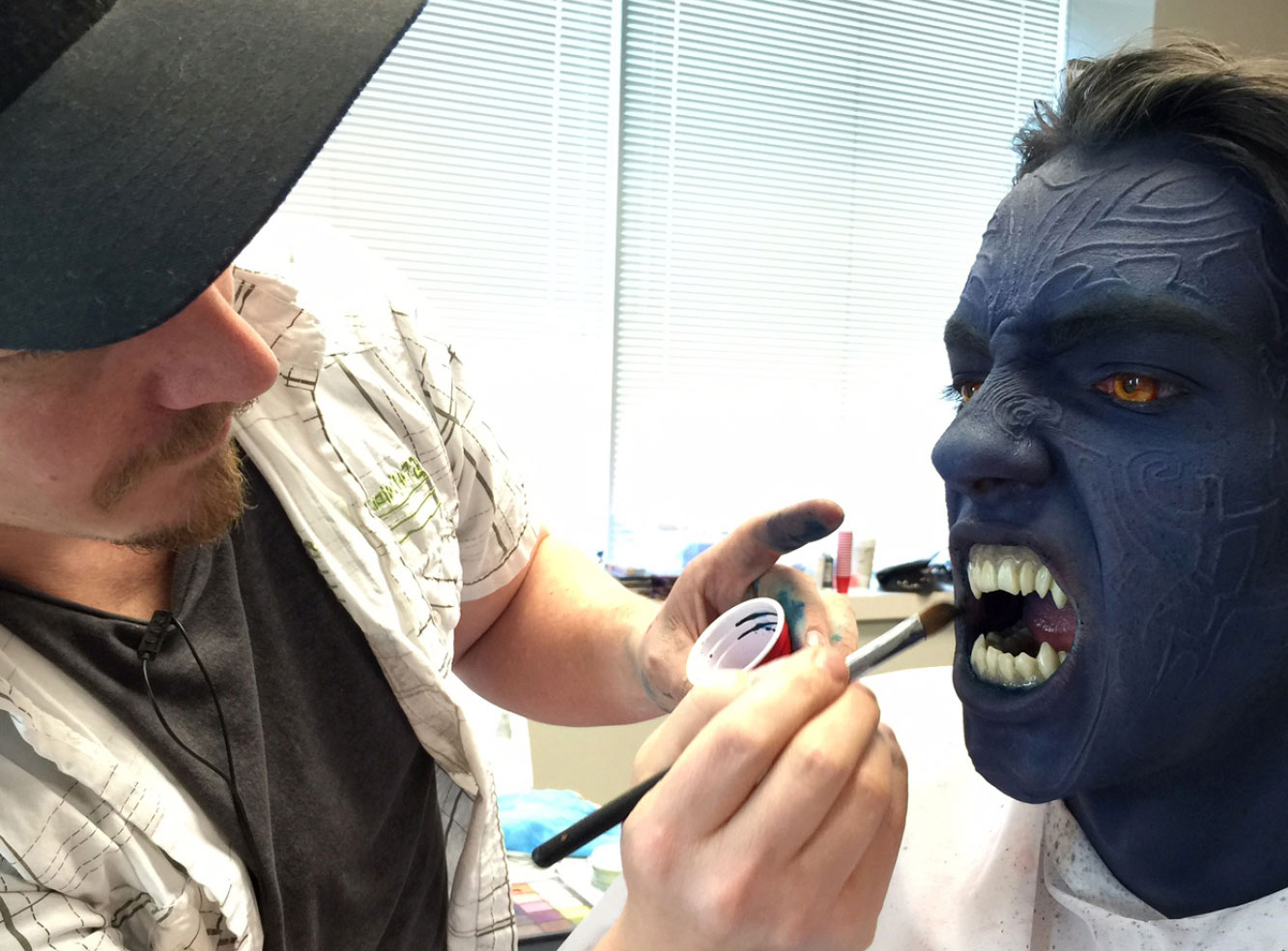 Ciccozzi lives for making fantasy a hard-won reality, and admits she has a soft spot for Wolverine, who she has been transforming since 2002. "For me, I love character makeup, design and the transformation that occurs. It's that whole process that is my favourite thing. From the planning stages to the execution on camera – I love that."
Morot agrees. "I'm always trying to raise the bar on quality every time I approach a new project," he says. "I think that it's always a matter of creating looks that are original and stimulating, while paying homage of the visual universe created by Bryan." With X-Men: Apocalypse, it's no doubt that they are very much copilots of that visual universe.